OI-6000 Explosion Proof Wired Powered Sensor Assembly with GEN II Radio and Two Relays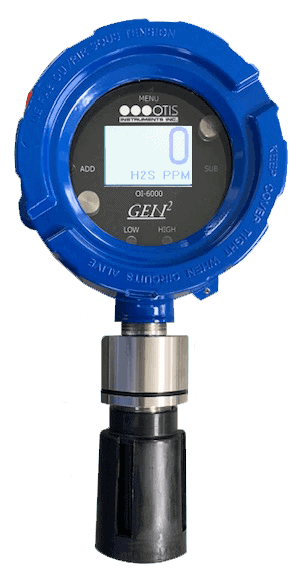 The Otis Instruments OI-6000 Series Ambient Air Hazardous Gas Detector is a versatile assembly that uses an electrochemical, infrared, catalytic bead, or PID sensor element to detect a variety of gases. Wired power (12 to 35 VDC) with 4-20 mA analog and RS-485 Modbus outputs standard. Magnetic switches allow for non-intrusive calibration while in the field as well as full system settings and diagnostics while remaining Class I Division 1 Groups B, C & D Certified.
Product Number Formula: OI-6000-[Sensor Type]-[Gas Type]-[Radio Frequency]-R-O
Sensor Type: Electrochemical, Infrared, Catalytic Bead, or Photo Ionization Detector
Power Voltage: Wired Power (3-Wire) 12 to 35 VDC
Power Draw: 2 Watts Maximum
Protection:
• Power Electromagnetic Interference (EMI) Filter
• 4-20 mA Surge Suppression
• RS-485 Surge Suppression
Display Screen:
• 102×64 Resolution Graphical LCD Screen
• Transflective (Sunlight Readable) with white LED Backlight
Interface:
• 3 Push-Buttons (MENU, ADD, and SUB)
• 3 Magnetic Non-Intrusive Switches for Calibration (MENU, ADD and SUB)
Customizable Settings: 2 Individually-Configurable Alarm LED Set-Points
Tamb Temperature Range: -40°C to +54°C / -40°F to 130°F
Wired Analog Output:
• 4-20 mA (3-Wire)
• Fault Terminal
• Optional 2 Dry-Contact Relays with Replaceable 4 Amp Fuses
Digital Output: RS-485 Modbus
Optional WireFree Radio Output: GEN II 900 MHz Radio or GEN II 2.4 GHz Radio
Remote Sensor Kit (Optional Additional Feature): OI-501-5 Remote Sensor Kit with Enclosure (5 Pin)
• Electrochemical Sensor Max Length: 250 Feet
• Infrared Sensor Max Length: 40 Feet
• Photo Ionization Detector Sensor Max Length: 35 Feet
• Catalytic Bead Sensor Max Length: 15 Feet
Product Dimensions: 5.5″ T x 6″ W x 7″ H (8" W x 17" H Maximum w/ Antenna Fitting and Antenna)
Total Weight: 6 lbs.
Hazardous Location/ Certifications and Approvals:
• Class I, Division 1, Group B, C and D, T6
• Ex d IIB T6
• Zone 1, AEx d IIB T6
• Tamb –40°C to +54°C
Hardware Warranty: Limited one year
Sensor Element Warranty: Varies with Gas Type
Gas Type:
AsH3, CH2O, CH3SH, CH4, CL2, CLO2, CO, CO2, ETO, F2, H2, H2S, H2S2K, HBr, HCL, HCN, HF, LEL, NH3, NH3300, NH3A, NO, NO2, O2, O3, O3H, PH3, SO2, VOC10, VOC20, VOC50, VOC1K, VOC2K
Radio Configuration: Gen II 900 MHz Radio, Gen II 2.4 GHz Radio
| | |
| --- | --- |
| OI-6000-CB-PCA | OI-6000 Control Board with LCD Screen Installed |
| OI-6000-IR-152-CB-PCA | OI-6000 Control Board with LCD Screen Installed (For OI-6000-IR-152 Only) |
| OI-LCD-102 | LCD Screen with White LED Backlight |
| OI-6000-FP-KIT | OI-6000 Faceplate Kit with Faceplate, Label, (2) Thumbscrews, and Foam to Secure LCD Screen |
| OI-6000-XRB-PCA | OI-6000 Radio/Relay Board with Relay Components Only (Not for OI-6000-IR-152) |
| OI-6000-RXB-PCA | OI-6000 Radio/Relay Board with Radio Components Only, No Radio Module Installed (Not for OI-6000-IR-152) |
| OI-6000-RRB-PCA | OI-6000 Radio/Relay Board with Radio and Relay Components, No Radio Module Installed (Not for OI-6000-IR-152) |
| OI-RADIO-2.4-TH | GEN II 2.4 GHz Radio Module |
| OI-RADIO-900-LAIRD | GEN II 900 MHz Radio Module |
| OI-432-UFL-4 | u.FL Cable for Connecting Radio Module to Board |
| | |
| --- | --- |
| OI-AN-2.4-RIGID-R | 2.4 GHz Antenna, Non-Flexible, Right Angle |
| OI-AN-900-FLEX-R | 900 MHz Antenna, Flexible, Right Angle |
| OI-420 | Otis Magnet |
| OI-402-5PACK | Package of 5 Desiccant Bags, 6 Grams per Bag |
| OI-495-O | Main Enclosure O-Ring |
| OI-2011-SB-IR | Analog Sensor Board for Infrared Sensor Elements |
| OI-2014-10 | Analog Sensor Board for PID Sensor Elements, 0-10 PPM Scale |
| OI-2014-20 | Analog Sensor Board for PID Sensor Elements, 0-20 PPM Scale |
| OI-2014-50 | Analog Sensor Board for PID Sensor Elements, 0-50 PPM Scale |
| OI-2014-1K | Analog Sensor Board for PID Sensor Elements, 0-1000 PPM Scale |
| | |
| --- | --- |
| OI-2014-2K | Analog Sensor Board for PID Sensor Elements, 0-2000 PPM Scale |
| OI-2015-SB-NEC | Analog Sensor Board for Electrochemical Sensor Elements, Please Specify Gas Type |
| OI-2016-SB-O2 | Analog Sensor Board for Oxygen Sensor Elements |
| OI-2000-CAP-ASSY | Sensor Housing Cap with Flame Arrestor and O-Ring (Not for OI-6000-IR-152) |
| OI-500-B | Sensor Housing Rainguard |
| OI-6000-SXB-PCA | OI-6000 Sensor/Relay Board without Relay Components Installed (Only for OI-6000-IR-152) |
| OI-6000-SRB-PCA | OI-6000 Sensor/Relay Board with Relay Components Installed (Only for OI-6000-IR-152) |
| OI-410 | Calibration Cup Kit, Includes 3 Feet of Tubing |
| OI-501-5 | 5 Wire Remote Sensor Housing Mounting Kit, Does Not Include Cable |
| OI-SENSOR-CABLE | Remote Sensor Kit Cable, Sold per Foot |