OI-6750 2-Wire Electrochemical Toxic Gas Detector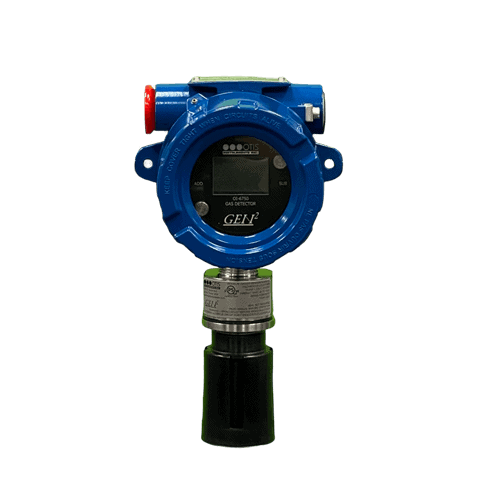 The Otis Instruments, Inc. OI-6750 Series Toxic Gas Detector is a versatile assembly that uses an electrochemical sensor to detect a variety of gases. 2-Wire Loop-Powered to withstand extreme climatic conditions and harsh environments. Magnetic switches allow for non-intrusive calibration while in the field as well as full system settings and diagnostics.
Sensor Type: Electrochemical
Power Type: Loop-Powered (2-Wire)
Operating Voltage: 12V to 35V DC
Current Draw: 35 mA Maximum
Display Screen: 102x64 Resolution Graphical LCD Screen
Product Compatibility: Gen II WireFree Transmitter (OI-5900); Gen II Wired Monitors (OI-7010, OI-7032, OI-7420, OI-7440, OI-7480)
Interface: 3 Push-Buttons (MENU, ADD and SUB); 3 Magnetic, Non-Intrusive Switches for Calibration
Temperature Range: -40 to +60 C (Varies with Sensor Type)
Wired (Analog) Output: 4-20mA (2-Wire)
Product Dimensions: 5.42 in. L x 6.03 in. W x 17.03 in. H (Max. Dimensions with Attachments)
Enclosure Materials: Aluminum Device Enclosure; 303 Stainless-Steel Sensor Housing
Total Weight: 5.75 lbs.
Product Mounting: Wall Mount (Included)
Approvals: QPS Component Certified Explosion-Proof
Hazardous Location Certification Approvals: 
Main Enclosure
Class I, Division 1, Group B, C and D
Ex db IIB Gb
Class I, Zone 1, AEx db IIB Gb
Tamb -40 C to +60 C
Sensor Enclosure
Class I, Division 1, Groups B, C and D
Tamb -40 C to +60 C
Hardware Warranty: 1-Year Limited
Sensor Element Warranty: 1-Year (Varies with Gas Type)
Part Number Formula: OI-6750-[Gas]-X-O; OI-6750-X-X-O
| | |
| --- | --- |
| OI-352-CB-PCA | Control Board Assembly for OI-675, Specify Gas Type |
| OI-254-EC-SS-XP | Explosion Proof Electrochemical Sensor Housing Assembly |
| OI-675-FP-KIT | OI-675 Faceplate Kit with Faceplate and Kit |
| OI-4000 | Otis-Blue Explosion Proof Enclosure with Glass Lid (Certified) |