OI-6900 Explosion Proof Dual Battery Powered WireFree Sensor Assembly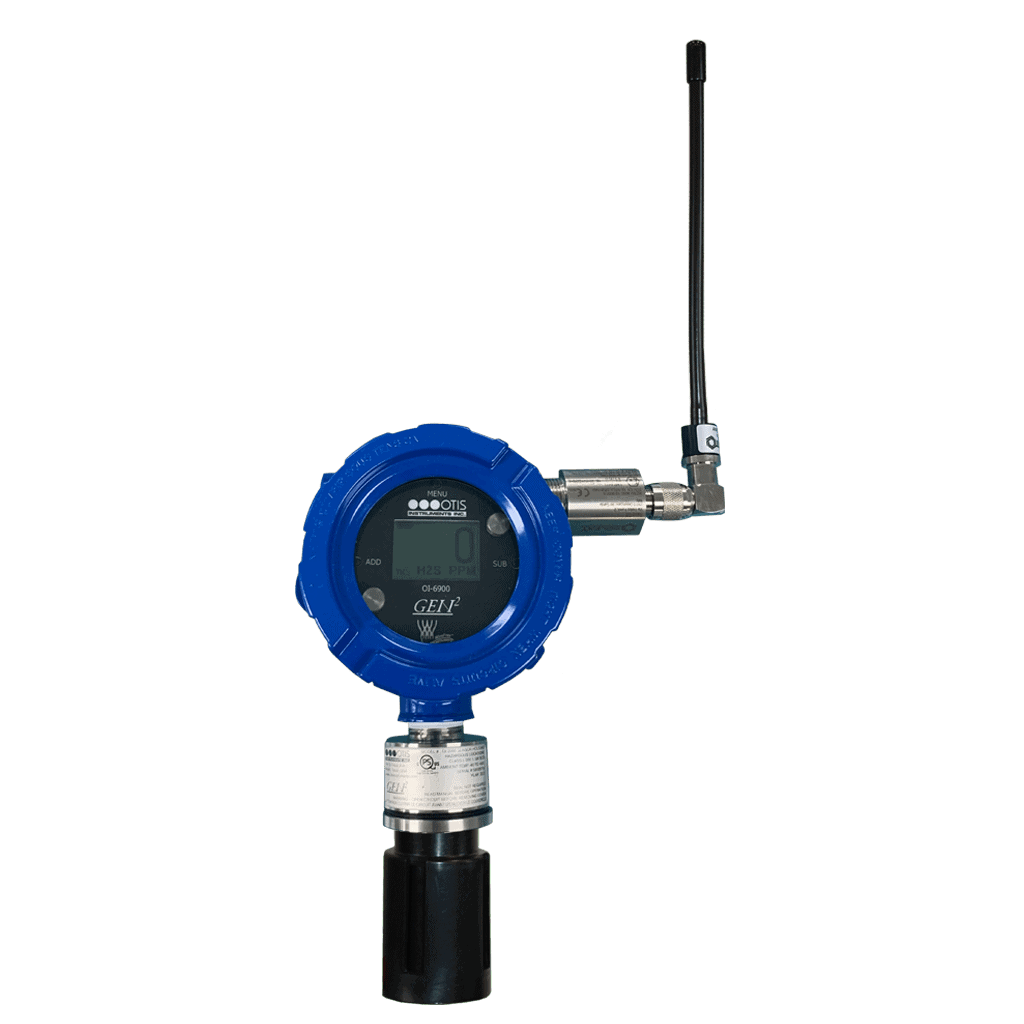 The Otis Instruments WireFree OI-6900 Series Ambient Air Hazardous Gas Detector is a wireless, dual battery-powered assembly that uses an electrochemical or low-power infrared sensor element to detect a variety of toxic or combustible gases. The OI-6900 offers nonintrusive calibration, allowing the device to remain Class I, Division 1, Groups B, C and D certified, while adjustments are made in the field. The OI-6900 continuously monitors the gas level of the surrounding environment and reports once a minute, the reporting rate will increase to once every five seconds when the detected gas is above the Background Gas Set-point. This set-point is adjustable to account for sites that may have a constant low level of gas always present. The display screen always shows the present gas concentration.
Part Number Formula: OI-6900-[Gas Type]-[Radio Option]-O-2B
See Related: OI-501-7, 7-Pin Remote Sensor Kit for use with OI-6900.
Sensor Type: Electrochemical, Photo Ionization Detector or Low-Power Infrared Sensor
Power Type: Dual Battery-Powered
Operating Voltage: 3.6 V (19 Ah each, 38 Ah total) Lithium-Thionyl (Li-SOCl2) Battery, with Connector (Non-Rechargeable)
Battery Life:
• Low Power Infrared—1-Year Max Battery Life
• Photo Ionization Detector– 14 Days Max Battery Life
• Electrochemical—2-Year Max Battery Life
RF Connection: External N-Female Radio Frequency (RF) Connector
Display Screen: 102×64 Resolution Graphical LCD Screen Transflective (Sunlight Readable) with LED Backlight
Interface:
• 3 Push-Buttons (MENU, ADD, and SUB)
• 3 Magnetic Non-Intrusive Switches for Calibration (MENU, ADD, and SUB)
Customizable Settings: Adjustable Background Gas Setting (1% to 10% of Full Scale)
Tamb Temperature Range: -40 to +54°C
WireFree Radio Options: GEN II 900 MHz (200 mW) Radio or GEN II 2.4 GHz (125 mW) Radio
Networks:
• 52 Networks (GEN II 900 MHz Radio) or 78 Networks (GEN II 2.4 GHz Radio)
• 255 Addresses per Network
Product Dimensions: 5.42 in. L x 6.03 in. W x 17.03 in. H (Max. Dimensions w/ Attachments)
Total Weight: 6 lbs.
Remote Sensor Kit (Additional feature):
• OI-501 Remote Sensor Kit with Enclosure (7 pin)
• Electrochemical Sensor Max Length: 250 Feet
• Low Power Infrared Sensor Max Length: 40 Feet
• Photo Ionization Detector Max Length: 35 Feet
Approvals: CSA Certified Explosion/Flame-Proof
Hazardous Location Certifications and Approvals:
• Class I, Division 1, Group C and D, T6
• Ex d IIB T6
• Zone 1, AEx d IIB T6
Hardware Warranty: Limited one year
Sensor Element Warranty: Varies with Sensor Element and Type
Gas Type:
AsH3, CH2O, CH3SH, CL2, CLO2, CO, CO2, ETO, F2, H2S, H2S2K, HBr, HCL, HCN, HF, LEL, NH3, NH3300, NH3A, NO, NO2, O2, O3, O3H, PH3, SO2, VOC10, VOC20, VOC50, VOC1K, VOC2K
Radio Configuration: Gen II 900 MHz Radio, Gen II 2.4 GHz Radio
Enclosure: Explosion Proof
| | |
| --- | --- |
| OI-WF691-B | Battery, 3.6VDC/19AH Li-Ion D-Cell, Non-rechargeable |
| OI-6900-CB-2B-PCA | OI-6900 Control Board with LCD Screen Installed |
| OI-LCD-102 | LCD Screen with White LED Backlight |
| OI-6900-FP-KIT | OI-6900 Faceplate Kit with Faceplate, Label, (2) Thumbscrews, and Foam to Secure LCD Screen |
| OI-6900-RB-2B-PCA | OI-6900 Radio Board, No Radio Module Installed |
| OI-RADIO-2.4-TH | GEN II 2.4 GHz Radio Module |
| OI-RADIO-900-LAIRD | GEN II 900 MHz Radio Module |
| OI-432-UFL-4 | u.FL Cable for Connecting Radio Module to Board |
| OI-AN-2.4-RIGID-R | 2.4 GHz Antenna, Non-Flexible, Right Angle |
| OI-AN-900-FLEX-R | 900 MHz Antenna, Flexible, Right Angle |
| | |
| --- | --- |
| OI-420 | Otis Magnet |
| OI-402-5PACK | Package of 5 Desiccant Bags, 6 Grams per Bag |
| OI-495-O | Main Enclosure O-Ring |
| OI-2014B-10 | Analog Sensor Board for PID Sensor Elements, 0-10 PPM Scale, Used in Battery Powered Sensor Assemblies |
| OI-2014B-20 | Analog Sensor Board for PID Sensor Elements, 0-20 PPM Scale, Used in Battery Powered Sensor Assemblies |
| OI-2014B-50 | Analog Sensor Board for PID Sensor Elements, 0-50 PPM Scale, Used in Battery Powered Sensor Assemblies |
| OI-2014B-1K | Analog Sensor Board for PID Sensor Elements, 0-1000 PPM Scale, Used in Battery Powered Sensor Assemblies |
| OI-2014B-2K | Analog Sensor Board for PID Sensor Elements, 0-2000 PPM Scale, Used in Battery Powered Sensor Assemblies |
| OI-2015-SB-NEC | Analog Sensor Board for Electrochemical Sensor Elements, Please Specify Gas Type |
| OI-2016-SB-O2 | Analog Sensor Board for Oxygen Sensor Elements |
| | |
| --- | --- |
| OI-2017-SB-LPIR | Analog Sensor Board for Low Power Infrared Sensor Elements |
| OI-2000-CAP-ASSY | Sensor Housing Cap with Flame Arrestor and O-Ring |
| OI-500-B | Sensor Housing Rainguard |
| OI-410 | Calibration Cup Kit, Includes 3 Feet of Tubing |
| OI-501-7 | 7 Wire Remote Sensor Housing Mounting Kit, Does Not Include Cable |
| OI-SENSOR-CABLE | Remote Sensor Kit Cable, Sold per Foot |