OI-7010 Hybrid Monitor with Four Relays and RS-485 Modbus Output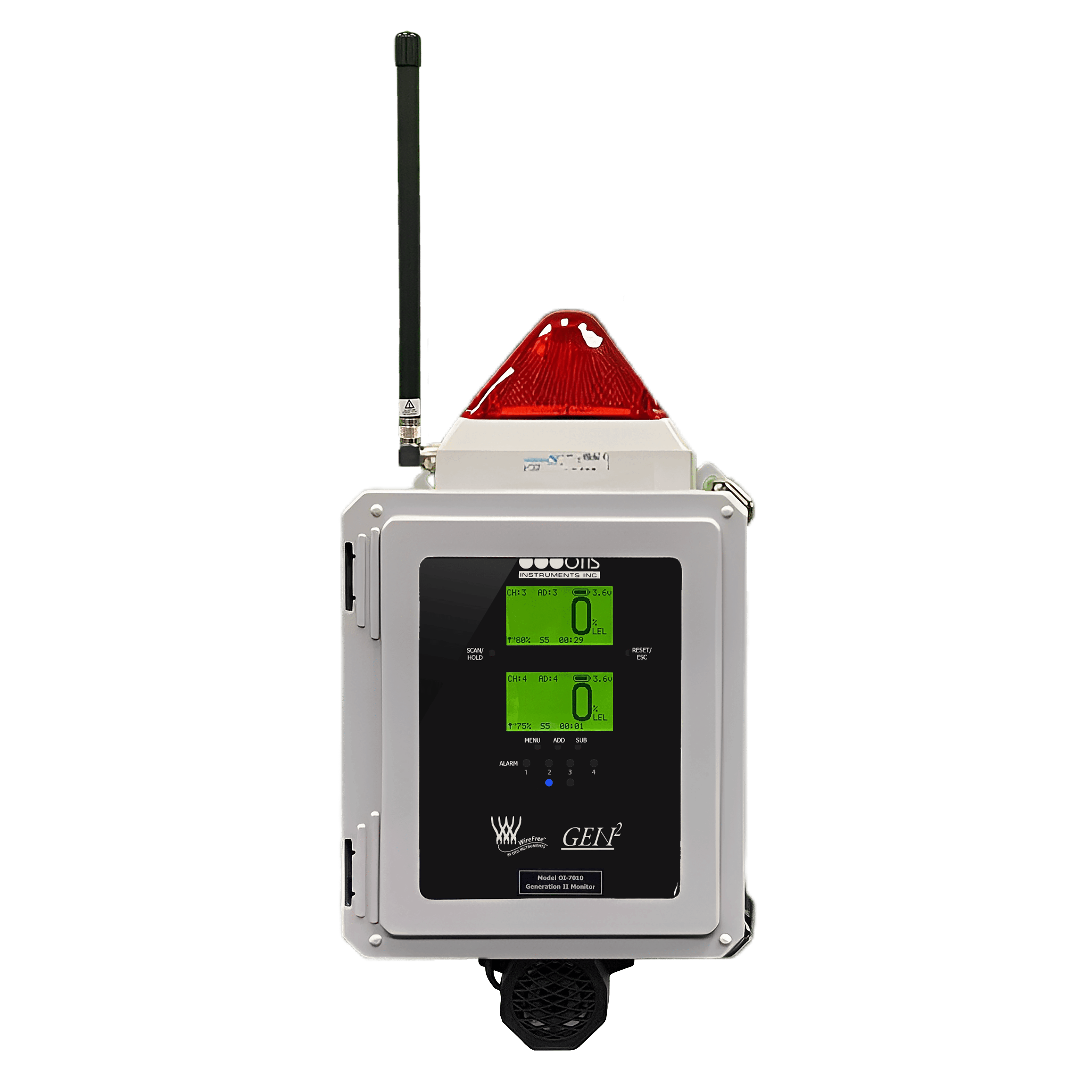 The OI-7010 is a 32-channel Hybrid Monitor. The device supports up to 32 WireFree sensor assemblies, and up to four 4-20mA input sensor assemblies.
The device is backward compatible with Gen I WireFree sensor assemblies, and also supports Gen II Wirefree sensor assemblies (configurable).
Part Number Formula: OI-7010-[Power Supply]-[Radio Frequency]-A4-32
Operating Voltage: 12V to 35V DC or 120V AC
Current Draw: 275 mA at 24 VDC (monitor without sensor assemblies); 6.6 Watts max
LCD Display:Two graphical LCD (128×64), transflective, sunlight readable, LED backlight
Compatibility: Otis WireFree and wires (4-20mA input) sensor assemblies
Channels: 32 (WireFree Sensor Assemblies)
Relays: Four dry-contact with 4 Amp fuses
Wired Output: RS-485 Modbus
Protection:
• Power EMI filter, surge suppression
• 4-20mA and RS-475 surge suppression
Operating Temperature: -22°F to 158°F; -30°C to 70°C
Warranty: Hardware: one year (limited)
Gen I (Legacy) Radio Option: 900 MHz, 250mW
Gen II Radio Options:
• 2.4 GHz, ISM, 125mW
• 900 MHz, 200mW
Each OI-7010 supports one legacy radio and/or one Gen II radio. For international applications, choose 2.4 GHz.
Enclosure Materials: Fiberglass, clear window or Stainless Steel
Dimensions:
• 10″L x 8″W x 6″H
• 25.4 cm x 20.32cm x 15.24 cm
Weight: 10.0 lbs (4.54 kg)
Mounting: 4 mounting feet; 6″W x 12 1/4″T;5/16″ or 8mm diameter MAX mounting bolt/screw size
Enclosure Rating: NEMA 4
Audible Alarm Add-On: OI-488 Dual-Tone Audio Alarm, 102dB 12-24 VDC
Visual Alarms:
• OI-481-R SM Strobe (Red) 12-80 VDC
• OI-481-RGA Tri-Lite GAR 125 XBR LED, Multi-State, Red, Green, Amber, Div2, 24 VDC, Gray Base
Alarm add-ons can be pre-mounted onto the OI-7010 enclosure prior to shipment from the factory.
Hazardous Alarm Option: OI-BEXCS-DC E2S Sounder/Beacon Combo; 24 VDC
Several hazardous alarm options are available for use with the OI-7010. For additional information, view our Gen II WireFree Price List.
Replacement Parts
• Fiberglass Enclosure: OI-451
• Control Board Electronics: OI-7010-PCA
• Mounting Feet: OI-403
• Faceplate with Label with Hinges: OI-7010-FP-KIT
• Straight Antenna: OI-AN-900-5dbi-S
Power: AC, DC
Radio Configuration: Gen II 900 MHz Radio, Gen II 2.4 GHz Radio
Channels: 32
Enclosure: Standard Fiberglass, Stainless Steel
| | |
| --- | --- |
| OI-451 | 10x8x6 Stahlin Fiberglass Enclosure with Base, Lid with Window and Lock Latches |
| OI-LCD-128 | LCD Screen with Green LED Backlight |
| OI-7010-FP-KIT | OI-7010 Faceplate Kit with Faceplate, Label, (2) Thumbscrews, Screen Foam, (2) Hinges |
| OI-7010-PCA-KIT | OI-7010 Control Board, includes (2) LCD Screens, does not include Radio Module or Faceplate |
| OI-432-16-NMF | N-Female Bulkhead to RPSMA Male Cable Assembly, 16 inches |
| OI-RADIO-900-4R-KIT | GEN II 900 MHz Radio Module with 4 Inch uFL Cable |
| OI-AN-900-FLEX-S | 900 MHz Antenna, Flexible, Straight |
| OI-7010-BP | Backplane for 10x8x6 Fiberglass Enclosure |